YOU HAVE CHOSEN TO PAY WITH
EASY-PAY-PLAN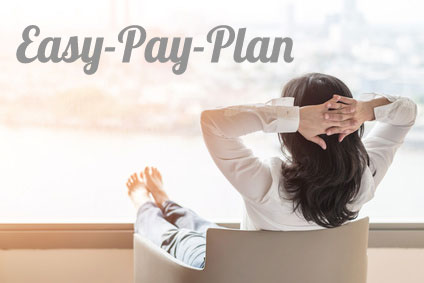 ---
Our Easy-Pay-Plans offer you both convenience and flexibility by
spreading your payments.
After making a modest initial upfront payment to secure the dispatch of your programme material, and get you started, you can choose one of three plans to spread the balance of the total programme fee over either 6, 12 or 18 months to suit your unique requirements.
Our Easy-Pay-Plans require payments to be made either by credit card, debit card or PayPal account. We use PayPal's recurring payments functionality to debit your card or account on a monthly basis.
Note that the recurring payments are debited on the same date every month, so be sure to make the initial payment on a date (e.g. 1st, 7th, 28th, etc.) that will suit you for debits to be processed in subsequent months.

Please follow the simple two-step enrolment process below.

STEP 1:
COMPLETE THE ONLINE REGISTRATION FORM

Please contact us if you experience any difficulty completing
this online form.

STEP 2:
go to the checkout to make payment

To pay, please click on the blue button below this text to be taken to the checkout.

When you click on the checkout button you will be taken to the PayPal website.

If you have a PayPal account you can then login and use this to pay with.

If you do not have a PayPal account you can choose to sign up for one, or you can pay by credit or debit card using a 'guest account'.