UPGRADE TO VERSION 5

FOR NEW INSIGHTS CERTIFIED COACHES WHO QUALIFIED ON PREVIOUS VERSIONS OF OUR TRAINING PROGRAMME
We'll start by answering the most obvious questions that you are likely to have about upgrading to v5. 
If, as we hope, you decide to go ahead and upgrade, scroll to the bottom for details on how to enrol in the upgrade course.
WHAT HAS CHANGED IN V5?

Version 5 represents a substantial leap forward from previous versions.
Many changes have been incorporated but we have taken care to retain all the core concepts, principles and overall philosophy that sets New Insights training apart.

We have restructured the 

Skills Training

 modules. Topics have been re-ordered and re-grouped to complement the I-N-S-I-G-H-T-S model and improve the flow. More new information, explanations, visuals, exercises and examples has been added.
The 

Life Coaching System has been extended and now comprises 15 sessions as opposed to 13. It, too, has been restructured to complement the I-N-S-I-G-H-T-S model and improve the overall flow. 

A new 

Coaching Session Guide

 has been introduced, with a detailed session-by-session walk through of the New Insights Life Coaching System. Guidance is also provided on how to run free-form or 'transactional' coaching, using a generic coaching model.
Why should I upgrade?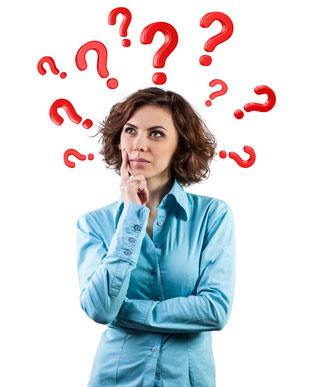 Upgrading to version 5 is a must if:
You

value the New Insights approach to life coaching and want to be brought bang up to date with the changes to the material and the various concepts, tools, techniques and skills we offer.
You like the idea of a short refresher course that will reinforce and expand on your training and enhance your coaching skills.

You know the value of having a transformational coaching system to offer your clients, and you want access to the latest changes to the New Insights Coaching System and the associated Coaching Session Notes.
Why the need for a bridging course?

It would make little sense for us to charge you a fee to upgrade, send you the latest material and then leave you to your own devices in trying to figure out everything that has changed and how to apply these changes in your coaching.

We want you to feel confident that you understand, and can apply all the changes to best effect in your coaching. 
And we want to know that when you coach using the updated New Insights Life Coaching System that you are properly equipped to do it full justice.
What does the bridging course involve?

This online course, conveniently accessible via the New Insights Online e-learning platform, is designed to:
Walk you through all of the most important changes

 involved in the upgrade to version 5 of our training, our Life Coaching System and our revised Code of Ethics. This is done through five short presentation style videos and tested by means of a simple sixty minute multiple choice exam (which you can take up to three times) requiring a 70% mark to pass.
Familiarise you with the new Life Coaching System

 and test your ability to use it  through one full programme of practice coaching (sessions 1-15) with one client who is required to submit three online feedback forms (covering the initial, mid-programme and end-programme sessions).
HOW MUCH TIME DO I HAVE TO COMPLETE THE BRIDGING COURSE?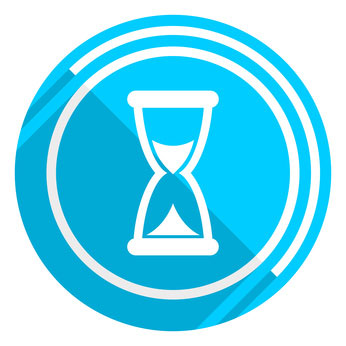 The videos that walk you through the changes total about 50 minutes so it won't take you long to view these and cross reference to the Skills Training  material and Life Coaching System. 
Assuming you take a further 15 weeks to complete the practicals (conducting one session a week), you should easily be able to complete the course within 6 months. 
The maximum time that we allow you to complete all aspects of the course (including practicals) after you  enrol, is a very  generous 12 months.
What is a 'Licensed Practitioner Coach'?

With the advent of version 5, we have introduced a license agreement which sets out the terms of use of the New Insights Life Coaching System in professional coaching by certified life coaches. 
This is aimed at preventing unauthorised use of the System and protecting its integrity.
The license covers the full calendar year and currently costs £240 (charged pro rata for the number of months remaining). This fee can be paid annually upfront, or monthly by recurring payment, charged to your debit/credit card by PayPalTM.

Licensed Practitioner Coaches qualify to display an augmented coach identifier (see the sample above) and get full access to the Life Coaching System and Session Notes without the watermark restriction that is applied to the notes used in practice coaching.

Licensed Practitioner Coaches may list their profiles on our exclusive Directory of Life Coaches  at no additional cost.
What IS THE FEE TO upgrade?

For programme delivery in the UK, the upgrade fee, if paid upfront is just:
£545

For programme delivery outside of the UK, the upgrade fee, if paid upfront is just:
£620*
*This fee includes courier delivery of the programme material but excludes any VAT, customs duties and/or levies that may be charged upon importation into the country of residence.

CAN I PAY THE UPGRADE FEE IN INSTALMENTS?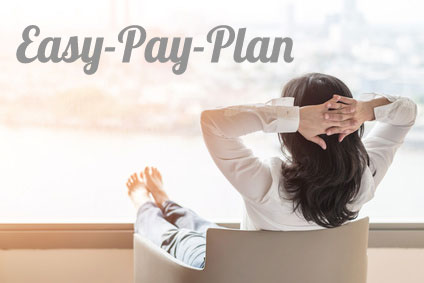 Yes, we offer you the option to pay in instalments using your credit/debit card via PayPal's recurring billing functionality.
You have the choice of three plans. Each one involves an immediate payment followed by a number of additional payments exactly one month apart.
For example, E-P-P 4 requires four equal payments (an initial upfront payment followed by three further payments, each charged one month apart):
| | | |
| --- | --- | --- |
| Plan | UK delivery | Inter-national |
| E-P-P 4 | £143 | £163 |
| E-P-P 7 | £86 | £97 |
| E-P-P 10 | £63 | £71 |
What is included in this fee?

The fee includes:

A complete new v5 programme material pack (exactly the same as we would supply to a newly registered trainee coach!) courier delivered to you.

On successful completion of the Bridging course, we will 

subsidise the fees

 for your Licensed Practitioner Coach status for the first 

six  months

.
As a Licensed

Practitioner Coach you will have access to the 

New Insights Life Coaching System

 for use in your professional practice. You will also qualify for a 

free profile

 on our

Directory of Life Coaches

... and more ...
HOW AND WHEN DO I GET STARTED?
Start whenever it suits you!
Simply complete the  registration and payment steps outlined below and we'll arrange to send you the v5 programme pack and enrol you in the Bridging Course so you can get going without delay!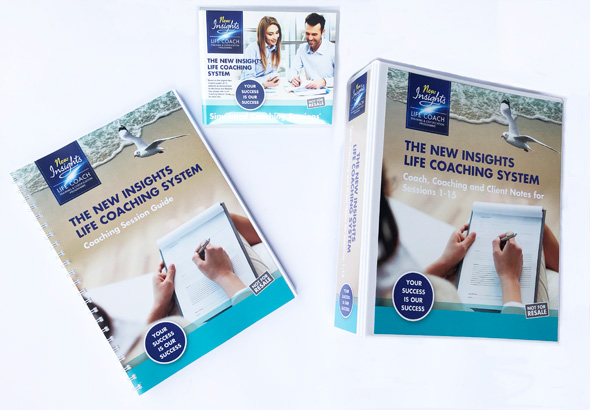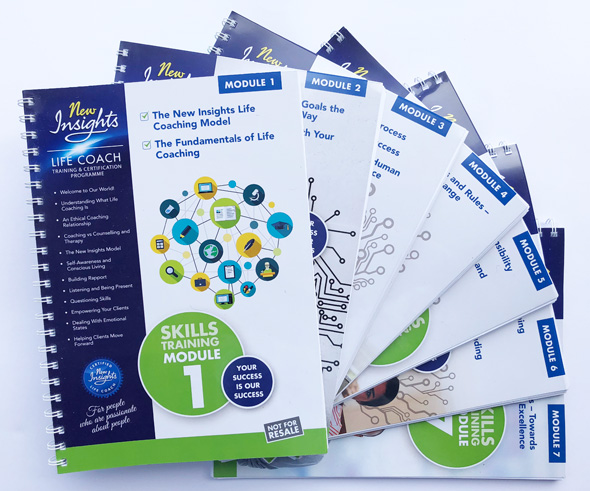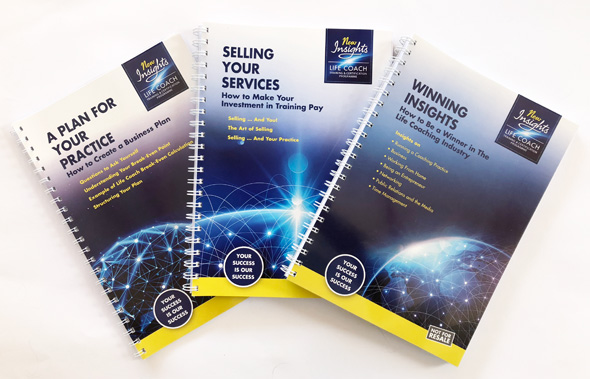 ---
ENROL HERE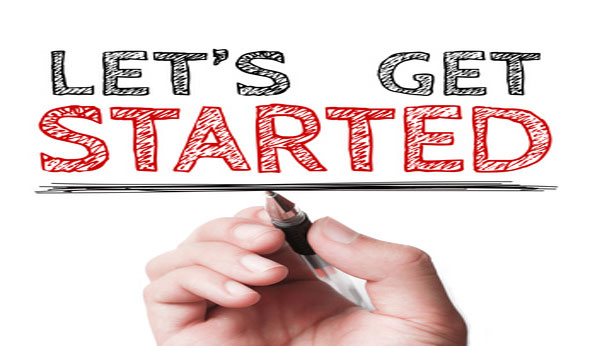 There is no pre-registration required for this course. Enrolment is a single process. Once you have completed the registration form below, you will be taken directly to the payment page.
Note that if you choose to pay in instalments, your initial  and subsequent payments will be deducted, via PayPal's recurring billing, on the same day of each month, so we suggest commencing the enrolment process on a day of the month that suits you best to make payments.

---