A Life Coaching Course that is So Much More

Introducing the New insights Life Coach Training and Certification Programme

---
This life coaching course is a high quality, hands-on, Home Study Training Programme that combines Convenience, Affordability and Flexibility with the in-depth Practical Experience, Structure and Support required for those who want to become a professional, certified life coaches.


---
If it's any old life coaching course you're after, you've probably noticed that there are plenty to choose from in the market.
However, if you're interested in the very best life coach training packaged together with an acclaimed life coaching system in a brilliantly designed home study programme that is not only effective but convenient and affordable ...
Then look no further than the New Insights Life Coach Training and Certification Programme.
Convenience without Compromise

We designed this life coaching course around people who lead busy lives.
Whether you're currently: in full or part-time employment; a parent to demanding children; completing other studies; or in active retirement, you'll love the convenience and flexibility that this home study Programme offers.
And you'll be pleased to know that you wont sacrifice on quality and integrity of training.
New Insights has been established now for over 12 years and has a proud reputation for producing top quality life coaches around the world.
Here's what you can expect when you commit to the New Insights Life Coach Training & Certification Programme as a Trainee life coach:
A Certification Process that is rigorous yet well balanced and practical in its application, underpinned by a code of ethics and evidenced in a professional looking certificate.


Skills Training Theory that is comprehensive, well researched, yet easy to follow and apply with plenty of reflective exercises, practical examples and self tests.


Practice Coaching that is real, meaningful and confidence-building


A Structured Coaching System that is tried, trusted and effective in bringing about lasting change for your clients, complete with comprehensive coaching session presentation notes and backed up by full length simulated coaching DVDs.


Attentive Support from New Insights staff, certified coaches and other trainees throughout and beyond the training experience. We go the extra mile to make you feel part of a special group right up to and beyond certification.


Useful Online Facilities like our Forum and state-of-the-art Journaling Platform, both of which serve to broaden, deepen and enhance your experience, understanding and capability.
Some Frequently Asked Questions

How do I know if I'm cut out for this Programme?

If you're sure that you want to be a life coach - and you want to be the best life coach you can be - then you're cut out for this Programme!
If you're not yet certain whether life coaching is for you (and you can read more about this career by clicking here) then we suggest you start with our Introductory Programme, Life Coaching 101.
Are there any pre-qualifications or pre-requisites?

No pre-qualifications are required to enrol for this life coaching course.

You should, of course:

be a person of impeccable integrity;
have a passion for working with and helping others to be the best they can be; and

have an open and inquiring mind ready to learn a lot about how you – and others – tick!
Is this an Online life coaching course?

No, this is not an online life coaching course.
This is a comprehensive Home Study based Programme.
The big advantage is that you will receive all of the course material upfront and in physical format. There is no need to resort to time consuming and costly downloads.

The skills training and business support manuals, simulated coaching DVDs, Introductory and Course Resources CDs as well as the full New Insights Life Coaching System, including coaching notes, are all courier delivered to you on enrolment and are yours to keep as a comprehensive reference library.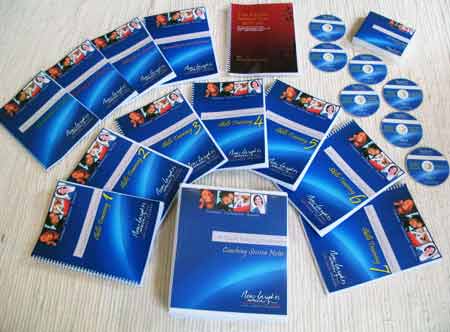 A photo of the material content of the New Insights Life Coach Training & Certification Programme
Click here for more details about the Course Material

What's covered in the Skills Training?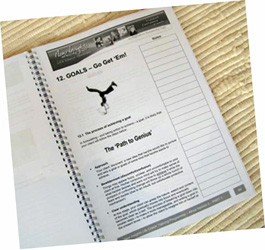 The life coaching course material covers a wealth of topics.
Not only will you learn all the skills required to be a great life coach but you will also cover these vital subjects:

How to develop a Business Plan for your Practice
Marketing for small businesses
Selling your services as a life coach

How to develop and sustain a truly successful coaching practice.
The life coach skills training theory itself covers the following key themes (this is a very brief overview as the course is comprehensive and extensive):
Introduction
Welcome to the Programme, including Course Outline, Certification Requirements, Competencies Imparted, Online Tools and Resources, Supervision, The New Insights Code of Ethics.
Part One

Running an effective introductory session including self awareness, understanding what life coaching really is, listening, questioning, dealing with common client issues, goal setting, the coach-client contract, etc.

Part Two
Understanding and promoting change including the primary human motivators, uncovering fear, a model for change, the dynamics of goal setting and getting, installing an empowering belief system, setting clients up for success and happiness, etc.
Part Three

What makes people tick? including understanding and working with values, dealing with value conflicts, uncovering and challenging the client's rules for success, etc.

Part Four
Understanding Human Behaviour and Becoming a Great Coach including The Six Human Needs, the art of constructive challenging, attributes of a great coach, etc.

Part Five
Effective Communication including Projection, the communication process, responsibility and control, building rapport, coaching and developing the client, etc.

Part Six
Uncovering one's Life Purpose including long-term goal-setting, guiding the client to find his/her purpose, setting yourself up to be a client magnet, etc.

Part Seven
Ending and/or Extending the Client Relationship including
celebrating success, evaluating client progress, handling feedback, continuing with or separating from your client, always being a winner, beyond the programme, etc.

When can I start?

Enrol whenever it suits you. You'll receive your programme material within a few days. Then study and complete the practical training in your own time and at your own pace.
As we said, this is a life coaching course with a difference!
How long does the Programme take?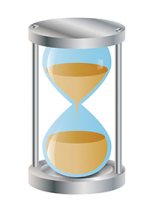 New Insights life coach training, though comprehensive, is built around your needs, not ours. It's completely flexible to meet your lifestyle.
We cater for both 'hares' and 'tortoises'!
As a guide, we recommend that you allow 9 to 15 months to complete certification if you can allocate roughly 3-5 hours of your time each week.

This is definitely not a fly-by-night course.
This is a comprehensive training programme designed to build your self awareness, knowledge, skills, experience and confidence to the point where you are completely ready to coach professionally and make a success of it.
In our experience, it is well worth investing the time to do exactly that.
Can I take as long as I like?

No, this is not an open-ended life coaching course.
This is a professional, accredited certification training programme with integrity and, as such, we place a cap on the time available to you at 24 months from the date you first enrol.
What is the 'Coaching System' that you refer to?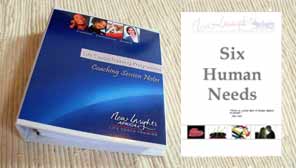 A unique feature of this programme – and part of what makes it far more than a standard life coaching course – is the inclusion of a high quality, structured coaching system for you to use during your practice coaching and, once you gain certification, for paid coaching purposes.

The System comprises thirteen coaching sessions which are generally administered over a six month period and during which you will take your client from life reflection and goal setting right through to uncovering life purpose, celebration of his/her achievements and goal setting for the longer-term.
The New Insights Life Coaching System, though carefully structured, is sufficiently flexible to allow you to tailor the programme for different clients and target markets – and to suit your level of experience.

This is a system that really works.
Many hundreds of testimonials from clients all over the world can support that claim. And you'll have complete access to every aspect of the system!
What support do you offer?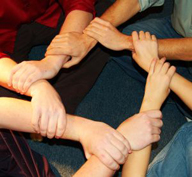 We pride ourselves on being able to offer friendly, caring and timely support to our Trainee Life Coaches.
You'll notice we use the word 'Trainees' and not 'Students'. That's because the New Insights life coaching course stresses the importance of really practical, hands-on experiential learning and development – much more than just academic study.

Here's some of what you can look forward to:

Courier delivery of your life coaching programme material to SA destinations, shipped within 3 working days of receipt of your order and payment (or deposit).

A Personal Coaching Session with a certified New Insights coach to help you fast track your training or build early momentum for your budding practice.

Full member access to the Customer Resources section of the New Insights Africa website where numerous electronic resources including coaching session notes and client feedback forms are conveniently housed for trainees and coaches.

Access to The Forum, a powerful online networking facility where our Coaches and Trainees can Share, Grow and Learn by posting questions, suggestions, comments and advice in one of many relevant sub forums, each of which is convened by a certified coach.

Client membership to our leading edge Online Journalling Platform for as long as you like, with the option to upgrade to coach member status (and a host of additional benefits) at any time.

Ongoing eMail and Telephone Support for as long as you are in training with us and a paid up participant in the life coaching course.

Free subscription to Life Coaching Insights, an inspiring and informative blog for coaches and trainee coaches that is updated on a weekly basis with notifications sent to your email box.

Opportunities to Network with other New Insights trainees and coaches, either informally or through teleconferences.

Full Certification Support including self-test assignment reviews, review of practice client feedback, exam marking and the delivery of a professional looking Certificate of Completion once you've successfully completed all the requirements.
What Certificate do you offer?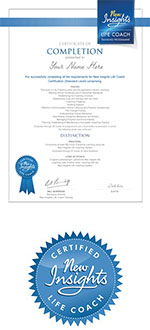 Upon completion of the life coaching course requirements we will post you a professional looking Certificate of Completion which will detail all your achievements.
You'll also be entitled to use our unique certified coach identifier, featured here, on all of your marketing material.
Click here to read more about our Certification Process

Is this course accredited?

es. We're very proud to carry the accreditation of the CDP Standards Office, an international body that accredits high quality training programmes.
We have New Insights certified life coaches operating very successfully all over the world.
Click here to read more about our Accreditation

How much does this course cost?

The New Insights Life Coach Training and Certification Programme offers really great value for money.
After all, this is not just another life coaching course. This is a complete home based business opportunity that will return its investment after you sign up your first few coaching clients!

The course fee is dependent on the course option that you choose and whether you elect to pay upfront or in instalments.
Click here for more details on the course Fees & Payment Options

What do your Trainees and Coaches say about this Course?

We're absolutely delighted with the feedback that we get from our trainee coaches and certified coaches. It gives real meaning to our mission to bring Freedom Confidence and Growth to the world!
We've trained many hundreds of people and are fortunate to have A LOT of testimonials, far too may to list but we have put a few up on this website. There are many more to be seen on our Facebook page.
Click here to read a few of our Testimonials
Click here to visit our Facebook page
How do I get started?

Simply click on the REGISTER/ENROL button in the menu bar and follow the instructions on the page.
Or Click here to go to the REGISTER/ENROL page